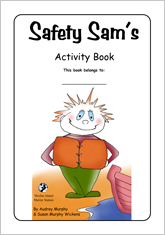 SAFETY SAM
Activity Book
By Audrey Murphy & Susan Murphy Wickens
---
Hi, my name is Safety Sam and I love to play, to swim, to help out on the farm and to go fishing. But to enjoy all these things I must be safe and well protected.
Sometimes we have to wear special gear to keep us safe and other times we must just be aware of the dangers around us. I always wear my lifejacket when I go out fishing with my Dad and when I help on the farm I always keep away from machinery and dangerous animals.
I am here to encourage you to think about safety in everything you do.
Work your way through the book and see how much you know about being safe.
---
ISBN:1 870492 47 ISBN-13: ISBN-13: 978-1-870492-47-8
(size 14.8 cm x 21 cm) 32 pages
Price: €1.95
plus postage within Ireland - €1.25

(Please email for postage rate outside Ireland)
© Sherkin Island Marine Station 2022