Free postage
in Ireland
on orders
of €50.00
or more!
PUBLICATIONS
Back to Publications' Homepage
Order from:
Sherkin Island Marine Station,
Sherkin Island,
Co. Cork,
Ireland.
Payment Options:
Cheques or Postal Order
Cheques or postal orders can be made out to: Sherkin Island Marine Station and sent to the address above.
Paypal
You can also pay by Paypal. Even if you do not have a Paypal account, Paypal will still accept credit card payments.
Email us your order and we will email you back a Paypal payment request.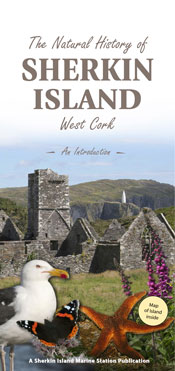 The Natural History of
SHERKIN ISLAND
West Cork
An Introduction
*** OUT OF PRINT ***
---
Written by John Akeroyd
Photography by Robbie Murphy
---
Perhaps you haven't been to Sherkin Island before, or maybe you're coming back again, as many people do. This book will introduce you to some of the wonderful wildlife and flowers on this beautiful and peaceful island, which lies just 10 minutes by ferry across the busy little harbour of Baltimore, West Cork. We hope the island's natural history brings you as much pleasure as it brings us.
---
ISBN-13: 978-1-870492-38-6
Softback: size 208 mm x 98 mm - 72 pages
© Sherkin Island Marine Station 2020