Free postage
in Ireland
on orders
of €50.00
or more!
PUBLICATIONS
Back to Publications' Homepage
Order from:
Sherkin Island Marine Station,
Sherkin Island,
Co. Cork,
Ireland.
Payment Options:
Cheques or Postal Order
Cheques or postal orders can be made out to: Sherkin Island Marine Station and sent to the address above.
Paypal
You can also pay by Paypal. Even if you do not have a Paypal account, Paypal will still accept credit card payments.
Email us your order and we will email you back a Paypal payment request.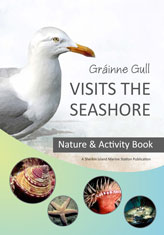 Gráinne Gull
VISITS THE SEASHORE
Nature & Activity Book
---
Written and compiled by:
Susan Murphy Wickens & Audrey Murphy Cain
---
Gráinne Gull Visits the Seashore is a Nature and Activity Book for children. With it, you can join Gráinne Gull as she visits the seashore, and meet some of her friends along the way. Help Gráinne unravel the puzzles that will reveal details about life on the seashore.
---
ISBN: 978-1-870492-78-2
Size: 22 cm x 14.5 cm (softback) 32pp. Full colour.
Price: €3.95
plus postage: Ireland - €2.50
(Please email for postage rate outside Ireland)
© Sherkin Island Marine Station 2022